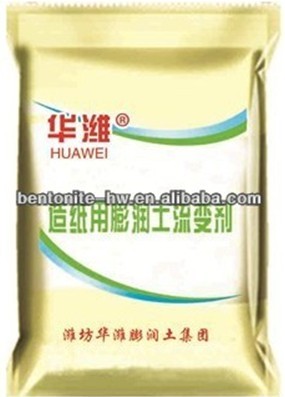 Bentontie for papermaking
2016-01-22
Price:US $550-1500/MT
Product description:
1.Papermaking bentonite.
2.Passed the ISO9001 and ISO14001 Certification.
3.Stable quality.
Details
Montmorillonite( Papermaking bentonite)
High whiteness papermaking bentonite (montmorillonite) is modified and refined with advanced technology. It is a kind of excellent performance paper chemicals, high whiteness, purity, ultra-fine powder, water swelling properties, cation exchange capacity, suitable for acidic or alkaline paper-making environment, can replace or partly replace titanium dioxide, silica, kaolin.
Contact us:
Huawei Bentonite Group
Tel:+86-5365078756
Mb:+86-18953660268
Whatsapp:0086 18853662580
Skype: cuteweli
Wechat:lw306286055
Email:willy@chinabentonite.cn
Web: http://www.chinabentonite.cn
Welcome to Huawei Bentonite Group!